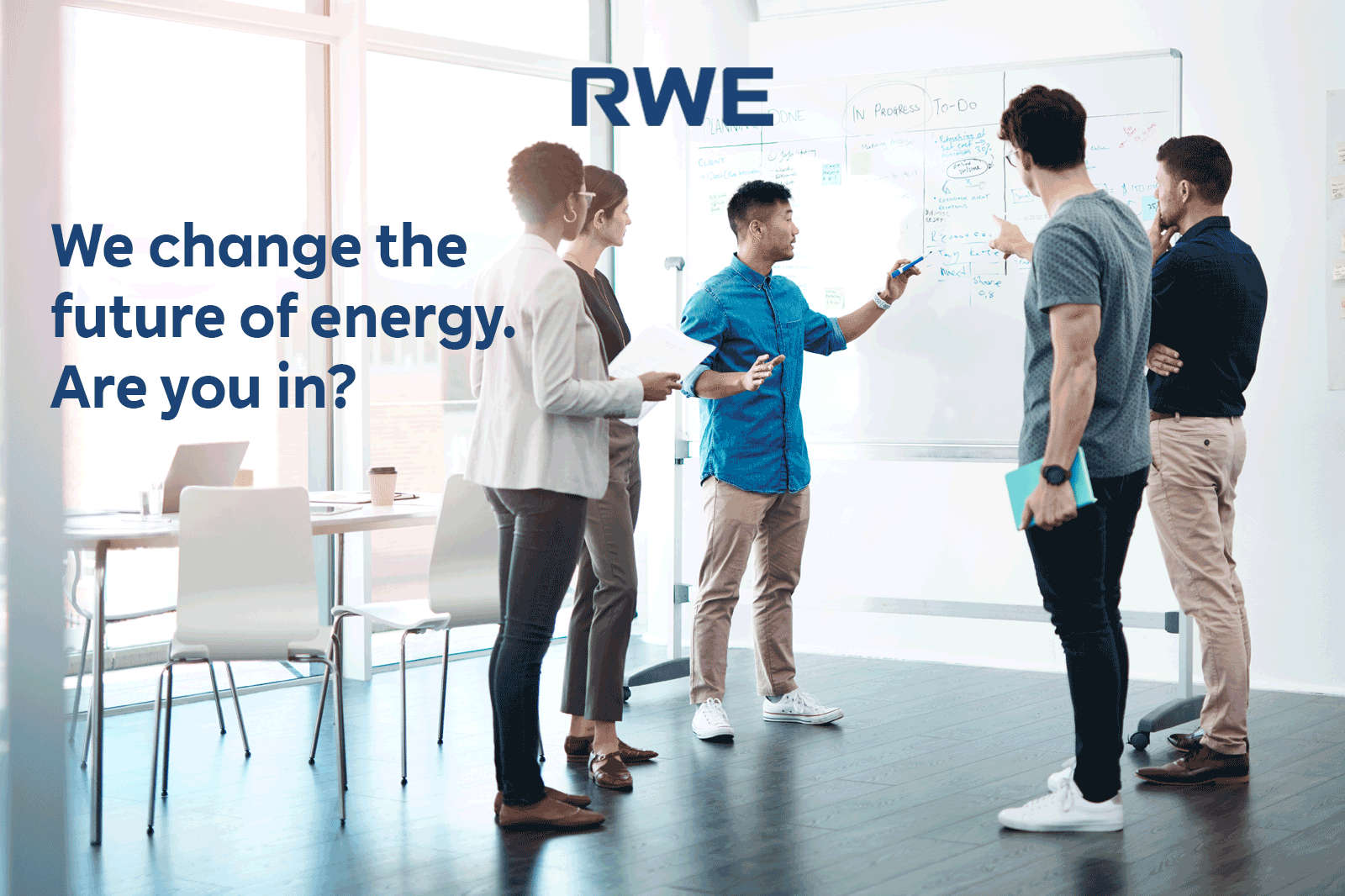 IT Developer Graduate Programme
Location(s):

Swindon, Wiltshire, GB, SN5 6PB

RWE Supply & Trading GmbH
Start date: September 2023
Starting salary: £ 37.200 p.a.
Drive your career with an energy leader
Are you looking to kickstart your career at a business where you can really make an impact? Then welcome to our RWE Supply & Trading (RWEST) IT Developer Graduate Programme!
Developers at RWEST operate at the heart of our commercial business, working closely with analysts, front office desks and business support areas to provide solutions in key areas such as profit and loss, position reporting, deal lifecycle automation, market data visualisation, model prototyping and systematic trading activities, to name only a few.
What you'll be doing
Over two years, you'll do four six-month rotations of your own choosing, starting off in Swindon in the UK with others potentially in London (UK), Essen (Germany) and Singapore. 
The aim is for you to thrive and grow as an IT professional. So throughout the programme, you will have the chance to work on real projects that could impact many different areas of our business including:
Key areas you could choose to do your rotations in include:
Application development 
Embedded IT for our commercial business such as trading of energy commodities, freight and logistics, commercial asset optimisation or sales and origination
IT projects with high business attention such as "Lead in Data" or "Lead in Cloud"
… and many more
You could also do one rotation in a non-IT related function to help you build up a broad awareness of the business. 
Through your rotations, you will be able to increase your IT stack and business knowledge, develop competence in a range of IT languages and build a good awareness of different working cultures – all of which will prove invaluable in your permanent role and future career. 
 
What you'll need to thrive
Are you passionate about the energy industry and trading in particular? Committed to building a career in the energy industry? Keen to learn, grow and take ownership and accountability? Then you could be just the kind of exceptional person we're looking for.  Some relevant work experience, German language skills and basic database knowledge (SQL, noSQL, Key / Value) are all useful but not essential. What you must have is:
A degree (BSc, MSc or PhD) in IT or a similar statistical or numerate subject such as  Mathematics, Engineering or Economics
Motivated to take on new challenges whether operating independently or within a team
A desire to work collaboratively with a curious approach, challenging yourself to find new solutions 
Enthusiasm and drive to develop your skillset and seek out development
Excellent interpersonal and communication skills
Knowledge of at least one programming language such as C#, Java or Python
Passion for IT development and working in a DevOps environment
Fluent English
Willingness to relocate plus flexibility and mobility to travel to multiple locations
A culture that empowers you
At RWEST we have an energy to be inclusive and believe diversity drives success. Reaching your full potential means being able to bring your whole self to work and being respected for the different opinions, strengths and experience you bring.
Our Graduate Programme has been designed  to give you the chance to shape your own career path and personal development, and the support you need to make it a success. You'll be assigned an graduate buddy and a senior mentor within your field  who can advise you on rotations and introduce you to key people within the HR business.
We also offer a wide range of development opportunities, including networking events where you'll get to meet senior managers and board members.  You'll have opportunities to attend various webinars and technical training courses, as well as a business school week every six months with real business applications to help you embed your learning. 

And after the programme? The only way is up! Around 70% of our graduates are still working with us long after their programmes have finished. So the skills you gain should provide the perfect springboard for your future career.
Meeting you're needs
We aim to promote a workplace which allows people to perform at their best. So, as well as ensuring you're rewarded for your efforts, we also have a variety of initiatives in place to help create a healthy workspace and support for your well-being: You'll enjoy a competitive salary and benefits package including:
Company pension
Discounted employee share scheme
25 days annual leave, plus bank holidays. You can also buy up to an additional 5 days leave per year
Financial assistance when moving from your base location
International rotations in the UK, Germany, and possibly further afield
An enhanced maternity scheme and family friendly policies
Free on site health care plus access to AXA Private Healthcare Scheme
Access to our Employee Assistance Program (EAP) providing you with immediate and confidential help for any work, health or life matters
Two paid annual volunteer days to be used with a charity or initiative of your  choice
Join any of our employee networks for social interaction (including Diversity Ambassador Programme), peer support and personal development, as well as contributing to the development of policies and working practices
Flexible benefits, including discounts at shops
Access to a modern office and trading floor in a great location
Open and diverse company culture with various clubs and societies
State-of-the-art IT 

Keen to discover more? Why not meet #TeamRWE where you can get to know some of our colleagues better through videos, testimonials, interviews and podcasts. 
Our future is in your hands.
 
Ready to be empowered?

Find out more on www.rwestcareers.com
Any questions? rwestcareers@rwe.com or Kate Poade, T: +44 2078981954
You can find out more about how we operate on LinkedIn and Instagram.
As an inclusive employer we strive to be able to support you to perform at your best at each stage of our recruitment process and can make adjustments to ensure this. If you'd like to request any adjustments or know how we can support you better, please contact us confidentially at rwestcareers@rwe.com. 

Apply before 5th January 2023 with just a few clicks: 74786
Please note that it is mandatory to upload your CV and cover letter in English. You will need to submit these as one document to apply. Furthermore, your CV should include your recent university and A-Level (or equivalent) grades.

About us
RWE Supply & Trading GmbH has around 1,600 employees from 45 countries and is the international trading house for RWE. We are active on Europe's largest energy trading floor in Essen as well as in London, New York and Prague. On growth markets outside Europe, especially in the Asia-Pacific region, we are the hub for electricity, gas, biomass, raw materials and emission certificates. We provide large industrial companies and trading partners with energy supply solutions and risk management concepts. We also ensure commercial optimisation of the RWE power stations, operate storage for natural gas and market renewable energy generated by RWE Renewables. Our innovative solutions pave the way to the future of energy–and to a sustainable life.