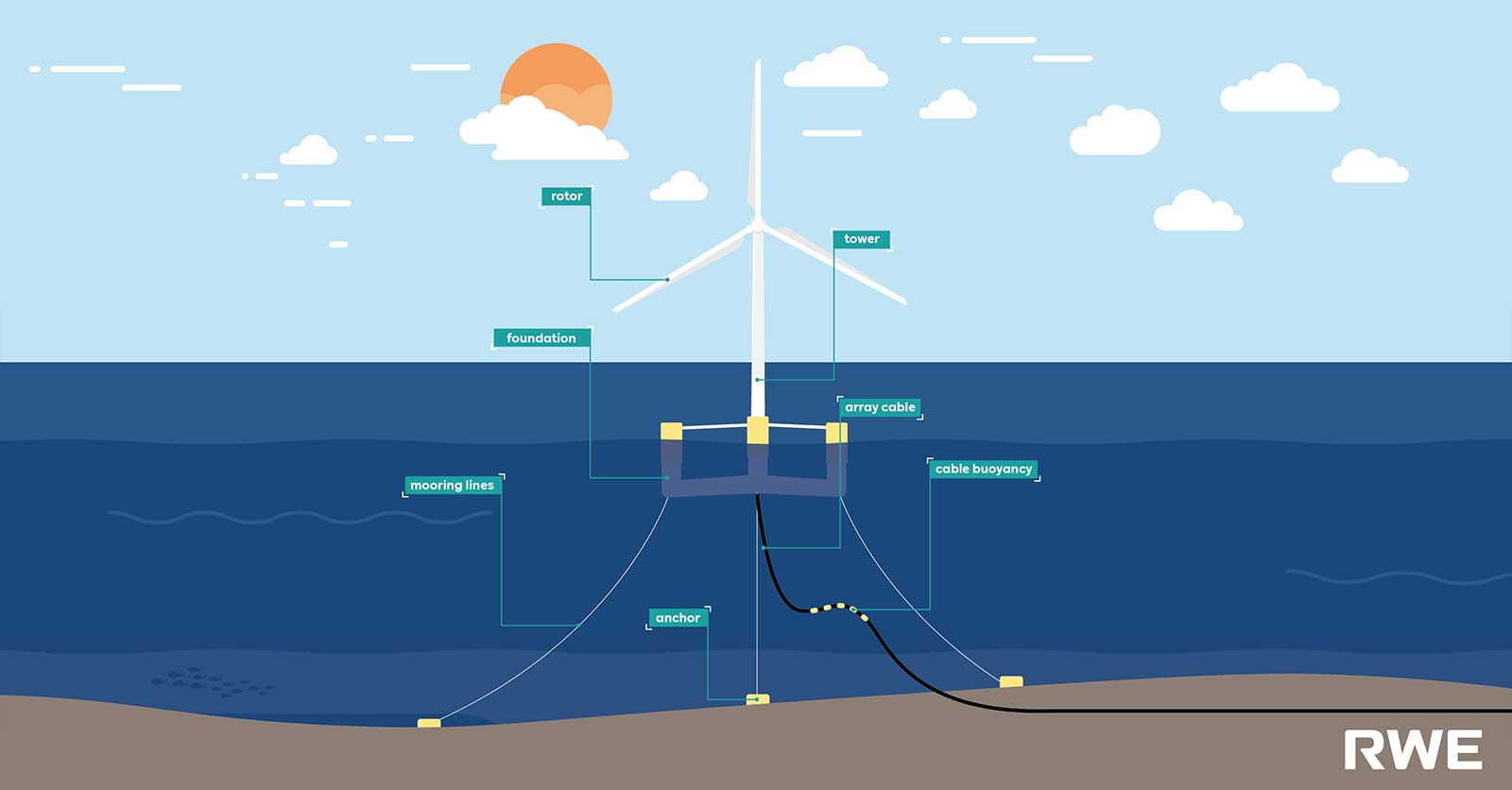 There are four main elements of a floating wind unit
Floating foundation (also called the 'hull' or the 'floater')
The floating foundation provides the buoyancy required for the structure to stay afloat and stability against the wind and waves. Fixed foundations support the mass of the turbine by being embedded in the seabed, which exerts a vertical upwards force that balances the downwards force the weight of the turbine has. Floating units provide this vertical force entirely through the buoyancy of the floating foundation.
---
Station-keeping system (also called 'mooring system')
The station-keeping system is the mooring lines and anchors. The main purpose of this system is to maintain the position of the floating foundation. The design of the mooring system also helps control motions and loads in the subsea cables. The anchors provide the attachment point for mooring lines to the seabed.
---
Subsea cables
Electricity is delivered from floating turbines back to shore via subsea array and export cables. Unlike seabed-fixed offshore wind where the cables are fixed to the seabed to prevent movement, floating wind uses 'dynamic cables'. This means the cables are stiffer than normal to be able to withstand additional floating motions, but also have appropriate protection to control the movement and loads at joints. Array cables normally follow a catenary or lazy wave configuration.
---
Turbine
In the short- to medium-term at least, floating projects will fundamentally use the same turbine technology as seabed-fixed projects. However, an important difference between seabed-fixed and floating wind is the level of interaction between the turbine and the foundation. In particular, the design of the floating foundation is defined by the motions that the turbine can safely withstand (namely inclinations – how far it can tilt, and accelerations - how fast it can move), with the turbine control system being modified to meet these conditions too.